Manpower Planning
PROHRD HCIM Consultancy has a depth of knowledge and experience in the field of Opera-tional Manpower Planning. Having the correct staffing levels is crucial for success in business as both understaff-ing and overstaffing can be costly in terms of expenditure and efficiency. So, are you properly staffed for your business needs? How do you manage the peaks and troughs of your operational cycle? An in-depth planning session with ProHRD Consultancy is your most cost-effective way forward to answer these vital questions. We can provide you with an overview of your company's immediate and future man-power needs and a detailed proposal for matching your needs with the correct staffing requirements. We can draw on experience in manpower and resource planning from the following business areas/sectors: call centres, logistics/warehousing operations and retail
End to End Recruitment Process
PROHRD HCIM Consultancy can help you manage any step of a recruitment campaign to ensure your business ends up with the best person for the job. Recruitment can be time-consuming and therefore expensive for many businesses.PROHRD HCIM Consultancy can take all that off your hands allowing you to get on with business as usual. We are not a recruitment agency – we work for you, the Company.
Attrition Issues & Effective Retention Policies
Managing for employee retention involves strategic actions to keep employees motivated and focused so they elect to remain employed and fully productive for the benefit of the organization. A comprehensive employee retention program can play a vital role in both attracting and retaining key employees, as well as in reducing turno-ver and its related costs. All of these contribute to an organization's productivity and overall business performance.
Induction, reference checks, background verification
The single biggest threat to any company is its employees Machiavellian behaviour can impact a company or tarnish its reputation with devastating results. So why take the risk? By implementing rigorous background screening policies, you can largely avoid the risk of the "bad hire".
Joining formalities, relieving procedures, full and final settlement, Exit interviews
Looking for an all-in-one recruiting solution? Workable can improve candidate sourcing, interviewing and applicant tracking for a streamlined hiring process. To ensure separation from services of the company is complete in all respects and the successor is suitably oriented to take over the assignment so as not to jeopardize the working system in the interest of the organization.
Client Management
Operate more like sales, be business oriented: We must develop a human capital management (HCM) strategy that builds a winning game plan, one that energizes the workforce, creates a contagious environment, allows for sharing of ideas easily, and connects people with the purpose of the business.
Sales leaders get it. It is much more profitable to retain and keep current clients than to source and locate new ones. They work extra hard to keep the clients they have and protect the client base. Energy is spent to build out client loyalty programs and to survey clients to ensure they keep close to their needs. Company brands are easily recognized by such efforts. How many of us are loyal frequent fliers, shoppers, and sports enthusiasts? Too often these fundamentals are missed in the world of HR. Contact us how to build this winning strategies…
Leadership Team Management
Team Management Profile
Team Management Profile (TMP), developed by Margerison-McCann and based on the work of Carl Jung, lends itself particularly to team building and establishing highly performing teams. It uses a model and language to identify individual work preferences and to give a framework for teams to work with.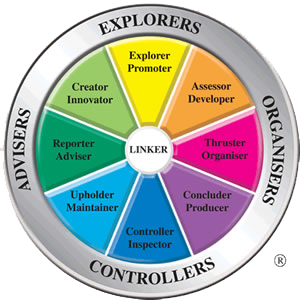 Individuals complete a questionnaire from which their personal Team Management Profile report is compiled. The Profile gives insights into how the person prefers to work and how they are likely to interact with others in the workplace. It is a tool that gives both individuals and teams a better understanding of how to maximize their potential and to improve their working with others.
As the Team Management Profile offers insight on a personal, team and organisational level, it can be used in a wide variety of situations including:
Change management
Establishing new teams
Cross-cultural team working
Leadership development
Career development
Your personal Profile shows where you lie on the Team Management Wheel, and reveals the energies that direct your personal potential.
A rigorously validated questionnaire is analysed by the software to provide a 4500 word customised report available in all the major European languages.
The Profile is a guiding compass for action. It can steer your own career journey, the trajectory of your team and the achievement of business goals.
PROHRD HCIM consultancy use the Team Management Profile extensively in their leadership development and team coaching activities.